Wednesday, July 19, 2006
Gas pipeline construction from Siberia to China to start in 2008 -official
GORNO-ALTAISK. July 18 (Interfax) - The construction of a gas pipeline from Western Siberia to China is to begin in 2008, Deputy Prime Minister of the Republic of Altai Robert Paltaller has told Interfax. He is a member of a joint working group with Gazprom (RTS: GAZP) that is dealing with the pipeline project. He said that the route of the pipeline should be drawn by the end of this year and the design made next year. Referring to tentative plans Paltaller said that the pipeline will run across five out of the 10 districts of his republic and bring gas to communities in those districts. In March Russia announced plans for two gas pipelines from Siberia to China. A new pipeline network tentatively named Altai may be built to annually export 60 billion-80 billion cubic meters of natural gas.
Monday, July 17, 2006
Russia, Japan agree on E. Siberia oil pipeline
STRELNA, July 17 (RIA Novosti) - Russia and Japan agreed Monday on a project to build the East Siberia-Pacific oil pipeline, the Japanese premier said rounding up a G8 summit in St. Petersburg. "Russia and Japan agreed to cooperate on the pipeline from East Siberia to the Pacific," Junichiro Koizumi said. "It will be a mutually advantageous project." The pipeline is slated to pump up to 80 million metric tons of crude a year (1.6 mln bbl/d) from Siberia to Russia's Far East, which will then be exported to the Asia-Pacific region with a branch going to energy-hungry China. The first stage of the project will connect Taishet in the Irkutsk Region to Skovorodino in the Amur Region in the Far East. The cost of the first stage was initially estimated at $6.5 billion. Koizumi said the cooperation between the two countries' governments and businessmen was crucial for the project. Japanese Prime Minister's words were supported by the Russian Industry and Energy Minister Viktor Khristenko who said Japan has offered to invest in oil production in Siberia in exchange for the speeding up of the construction of the Siberia-Pacific pipeline. "The decision has been taken to build the first part of the pipeline and the terminal," Khristenko said, quoted by AFX. The Russian minister added, however, that the decision on the second part of the pipeline will be taken "when we have more information on the (oil) resources available in East Siberia".
Thursday, July 13, 2006
Economic expediency of Baku-Tbilisi-Ceyhan oil-pipeline remains questionable
07-12-2006 Regnum News - Festive opening ceremony of Baku-Tbilisi-Ceyhan oil pipeline in a rather difficult in technical aspect $3bn-$5bn (according to various estimations) worth construction, is to take place on July 13. As Politmonitor reports, experts repeatedly cast doubt on expediency of the pipeline's construction because, among other factors, Azerbaijan does not have enough oil reserves for its filling. If there were no permanent open, from time to time, even desperate lobbying of the pipeline by the USA, it is unclear, what could finally happen. BTC oil pipeline is planned to transport about 50mln tons of oil annually. Otherwise, its profitability will be rather law. It is worth repeating, Azerbaijan does not have such amount of oil. It can expect producing of 20-25 million of tons by 2010. That is why, the construction's initiators tried to persuade Kazakhstan. The country agreed after long-term hesitation. However, Astana have big obligations concerning other countries, for example, China. Several huge oil fields are being still constructed. One should not figure on supply of big Kazakhstan oil, at least in the near future. That is why, economic expediency of BTC oil pipeline remains as usual questionable.
Friday, July 07, 2006
Azeri Crude to Slip Out of Russia's Stranglehold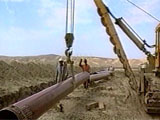 Friday, July 7, 2006 - Reuters - By Simon Webb - LONDON — The mammoth Baku-Ceyhan pipeline from Azerbaijan to the Mediterranean is a step toward freeing Caspian oil from Russia's stranglehold but the grip will not be broken until Kazakhstan finds new export routes, analysts say. The $4 billion pipeline, due to be inaugurated next week, will pump from 300,000 to 400,000 barrels per day of Azeri crude to Turkey's Ceyhan port and international markets by the end of this year, rising to a million bpd in 2008. It is the first time large volumes of crude will be exported from the Caspian oil producing region of Azerbaijan, Kazakhstan and Turkmenistan without going through northern neighbor Russia. "Baku-Ceyhan does not break Russia's stranglehold," said Alfa Bank's Moscow-based chief strategist Chris Weafer. "What was much more important were the projects coming behind it. But they haven't happened. The big prize now that the major oil companies are after is the line from Kazakhstan." Exports from the emerging energy giant of Kazakhstan are mostly via Russia to the Black Sea through the Caspian Pipeline Consortium. Russia has repeatedly blocked Kazakh plans to double the Caspian Pipeline's capacity from the current 700,000 bpd, claiming it would put further strain on the congested Turkish Straits. Expansion of the Caspian Pipeline is vital for Kazakhstan, which hopes to triple its oil output to over 3 million bpd by 2015. Looking for an alternative, the Kazakhs joined the Baku-Ceyhan project in mid-June. The most direct connection would be a pipeline under the Caspian from Kazakh fields to Baku. But that option is out of the question without permission from Russia, Iran and Turkmenistan. Environmental groups also oppose the pipeline. "The Russians and the Iranians are going to do all they can to block something like that," said analyst Julian Lee at the Centre for Global Energy Studies. "It is very difficult given the disagreements we have over Caspian Sea ownership." For now, oil companies operating in Kazakhstan are planning to build new terminals on either side of the Caspian and use tankers to ship Kazakh crude across the sea. Lee said he doubted the region had the shipyard capacity to build the tankers needed for large volumes to move that way. Large-scale Kazakh exports through the Baku-Ceyhan line were unlikely before 2010, Kazakh's energy minister said last week. The U.S. gave heavy political support to the Baku-Ceyhan pipeline as it sought to counter Russia's control over the region, diversify its own crude supply and lessen its growing dependency on Middle Eastern oil. "From a diplomatic point of view for the West it makes a lot of sense," said Frank Verrastro, director of the energy program at the Washington-based Center for Strategic and International Studies. "It's non-OPEC, non Persian Gulf oil and the transit route is outside of Russia." The 1770 km pipeline also avoids the Turkish straits, where crude carriers can be subject to long delays during winter. But some analysts question how much more reliable Azerbaijan is in the long term than any other exporter. "From my point of view I'm not sure that Azeri crude is really any more reliable than Russian crude," said Carl Calabro, director of market analysis at PFC Energy. "The Azeris have problems with Armenia and the Turks have problems in eastern Turkey."
Thursday, July 06, 2006
Russia, China to Build 2 Gas Pipelines from Siberia - Chinese Official
06.07.2006 - MosNews - China and Russia plan to build two natural gas pipelines from Siberia, one extending to China's Xinjiang Uygur region and the other to Heilongjiang province, Chinese state media reported on Thursday, July 6. The official China Daily cited Li Xianglin, Communist Party Secretary of Xinjiang's Altay region, as saying that under the plan Russian natural gas monopoly Gazprom would build two pipelines to China to transport 68 billion cubic meters of gas every year. The pipeline will connect from Altay to the west-to-east natural gas transmission project that extends to coastal China. An agreement on the western pipeline could be signed very soon, with near-final documents now with the Xinjiang Transportation Bureau and local government for approval, said the Chinese media report that was quoted by the AFX. In a separate report, Shanghai Securities News said that the western pipeline would be the first of the two planned pipelines to begin operation, in 2010. It said that the western pipeline, linked to the more plentiful western Siberian gas reserves, will cover a distance of 2,800 kilometers and have a designed production capacity of 30 billion cubic meters a year. The second, eastern pipeline that will connect to Heilongjiang would be supplied by eastern Siberian gas fields. That pipeline should start operation in 2015, the report said. Russian-British giant THK-BP owns a 63 percent share of the giant Kovykta gas condensate field in eastern Siberia. It would like to start the development of this field as soon as possible, but Gazprom, which holds monopoly on all gas exports, says the development of Kovykta should not be started before 2015. Neither report gave financial details for the pipeline projects.
Gas pipeline route in south Siberia to be approved in August
NOVOSIBIRSK, July 5 (RIA Novosti) - Local authorities in southern Siberia will create a special committee to determine the route for a gas pipeline connecting Russia and China in August, the press service of the Republic of Altai said Wednesday. In March 2006, Russia's energy giant Gazprom and China National Petroleum Corporation signed a protocol on gas supplies from Russia to China. The protocol covers the timeframe, volume and routes of gas supplies and the gas price formula. The Altai gas pipeline is considered the principal gas route - the western route - to connect gas deposits in West Siberia with provinces in western China through the Republic of Altai. Gazprom will also deliver gas via a route from Russia's Far East. Gas supplies via both routes will total 68 billion cubic meters a year and are expected to start in 2011. "At present we have finished technical and economic assessment of the [Altai] project," said regional leader Alexander Berdnikov. A Russian-Chinese expert group will prepare a feasibility study of the Altai project by the end of this year, an official from the Ministry of Industry and Energy said. "A group of experts under a Russian-Chinese working group is working on the Altai project and we are expecting positive results by the end of the year," Igor Shcheupov said Wednesday at a roundtable on cooperation between Russia and China in the energy sphere. Russia is already a major supplier of crude to the world's second largest consumer, but gas supply routes from Siberia to the Chinese cities of Daqin and Shanshan remain on the drawing board, as does another route from the offshore Sakhalin energy project to the northeastern city of Harbin. China is seeking to double the share of natural gas in its total primary energy balance to 6% by 2010.
Monday, July 03, 2006
Burgas-Alexandrupolis Divided for Three
07-03-2006 Kommersant - TNK-BP and Gazprom Neft set to creating a venture to construct Burgas-Alexandrupolis pipeline, and Rosneft is expected to become a co-founder. Today's draft of the project doesn't specify the U.S. Chevron, which Russia hopes to lure. The sources say the dialog with Chevron hasn't neared the end yet and there are chances that Chevron will participate in the project. TNK-BP and Gazprom Neft sealed an agreement yesterday concerning the joint participation in a venture, which will implement Burgas-Alexandrupolis project, Interfax reported referring to a source with the RF Industry and Energy Ministry. In this international project, Russia will be represented by three companies, each of which having an equal share. The third operator could be Rosneft, as it is also expected to join the project. TNK-BP confirmed some document has been sealed for Burgas-Alexandrupolis, but declined to elaborate. Gazprom Neft specified a joint venture will be created within a month. It will be an international design company," Gazprom Neft President Alexander Ryazanov said. "Rosneft doesn't officially participate in the new venture yet but the respective agreement has been attained." The 312km Burgas-Alexandrupolis pipeline will connect the Black Sea's port of Bulgaria, Burgas, with Creek Alexandrupolis, the Mediterranean Sea, by passing too popular straits of Turkey. The capacity is estimated at 35 million tons, but it could be extended to 50 million tons; the budget exceeds $700 million.
Contact me: