Thursday, January 31, 2008
Austria Signed a South Stream Deal with Gazprom
29.01.2008 - [Neftegaz.RU] - Russia's gas monopoly Gazprom signed an agreement with the Austrian company OMV for the transfer of 50 percent of the Central Europe Gas Hub, a subsidiary of OMV Gas International. U.S. officials are reported by Reuters to have expressed their dismay at the recent deals at a meeting between U.S. and Serbian officials in Belgrade, saying that the move increases Europe's dependence on Russia for gas. The U.S. expressed its preference for the Nabucco pipeline, which will run through Austria, Bulgaria, Romania and Hungary and will be completed in 2011, that is, two years ahead of South Stream.
Tuesday, January 29, 2008
Nabucco Pipeline Project's 6th Partner Seen Named in Early February
January 23, 2008 - AFX News
- The sixth shareholder for the 5 bln eur Nabucco gas pipeline project will likely be disclosed early in February, according to Reinhard Mitschek, the project's general manager. Mitschek told Thomson Financial News that while commercial negotiations have been finalized, the formal approval process within Nabucco's shareholders' companies is still ongoing. In response to media reports that the Turkish government has given its approval for Germany's RWE AG to join Nabucco, Mitschek said confidentiality agreements prohibit him from naming the new partner before the closing of the formal approval process, which he expects at that start of February. The founding members of the Nabucco consortium are Austria's OMV AG, Hungary's MOL Nyrt, Botas of Turkey, Transgas of Romania, and Bulgaria's Bulgargaz.
Monday, January 28, 2008
Russia: Gazprom's Advance Into Europe Continues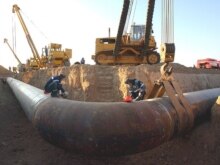 January 25, 2008 - RLS by Brian Whitmore - Advantage, Russia - Moscow has taken a giant leap toward solidifying its role as Europe's dominant energy supplier by securing two key pipeline deals over the past two weeks. On January 18, Bulgaria signed a deal with Russia's state-controlled natural-gas monopoly Gazprom to join its South Stream pipeline project. which would transport gas from Russia deep into the heart of Europe. And now, in an ornate Kremlin signing ceremony a week later, Serbia joined the project as well. "With the signing of these agreements Serbia becomes a key transit junction in the emerging system providing energy supplies from Russia...to the whole European continent," Russian President Vladimir Putin said after the signing ceremony. At one level, the South Stream pipeline project is designed to get Russian gas to Europe while bypassing former Soviet transit countries like Ukraine and Belarus. But more importantly, analysts say it is part of an ongoing Russian effort to stifle the European Union's efforts to diversify its energy supplies and lessen dependence on Moscow. In the process, the Kremlin and Gazprom are using Russia's energy might to establish a strategic foothold in Europe and expand Moscow's influence on the continent. "This is part of a larger strategy," says Fyodor Lukyanov, editor in chief of the Moscow-based journal "Russia in Global Affairs." "Wherever possible, it is necessary to increase Russia's presence in Europe, either inside the EU or in countries that have a chance to join." The fear is that this could leave Europe vulnerable to energy blackmail. "There is the possibility that Russia could start using energy as a political tool in parts of Central Europe, like it has done in the East with Ukraine," says Mark Hester, editor of the U.K.-based journal "Oil and Energy Trends." Gazprom cut off gas supplies to Ukraine for several days in January 2006 after a price dispute. The cutoff followed Ukraine's 2004 Orange Revolution, which brought a pro-Western government to power, causing many to suspect Russia of using energy as a political weapon. So does this mean that Russia -- which has been in an increasingly anti-Western mood -- will soon be in position to halt Europe's heating supply in the dead of some future winter? Hester says it's "not quite that scary yet" but that such a "worst-case scenario...is the way we ought to look at it."
Requiem For Nabucco?

Gazprom's South Stream project, which officials say would begin deliveries in 2013, would pump 30 billion cubic meters of gas a year under the Black Sea to Bulgaria. The pipeline would then branch off in two directions: north to Austria and south to Italy. Energy analysts say it is aimed at undermining the Nabucco pipeline, an EU-backed project that would circumvent Russia by transporting gas from the Caspian and Central Asian regions to Europe via Turkey and the Balkans. In May, Moscow dealt a major blow to Nabucco when it signed an agreement with Turkmenistan and Kazakhstan to build a pipeline along the Caspian Sea coast to transport their natural gas to Europe -- via Russia. In June, Gazprom and Italy's Eni further undermined Nabucco by signing the initial deal to build South Stream. Now, many observers fear that with Bulgaria and Serbia joining South Stream, Nabucco could be on its death bed. "Nabucco is not dead, but it is a patient that risks dying," says Federico Bordonaro, a Rome-based energy analyst with the "Power and Interest News Report." "The simple fact that the South Stream is the project that everyone is discussing and it is the project that has been successfully approved, is not per se a reason to say that Nabucco is dead. But the economic viability of Nabucco now comes into question." Russia is pushing hard to assure that gas from Turkmenistan will be delivered to Europe via Russia and South Stream -- not via Nabucco. Analysts say it is doubtful that there is enough gas in the Caspian region for both pipelines. Gasprom's foray into Europe is not confined to pipelines. The company is also busily acquiring energy infrastructure throughout the continent. As part of the South Stream deal with Serbia, for example, it also acquired the country's largest oil company, NIS.
Austro-Hungarian Waltz
Gazprom also made a deal last year with Austrian energy major OMV to buy a 50 percent stake in the company's Baumgarten gas-storage and -distribution center near Vienna. Gazprom is negotiating agreements to build other gas-storage facilities in Belgium, Hungary, and Austria. But the Baumgarten deal with OMV is particularly important: the Baumgarten facility was the planned termination point for the Nabucco pipeline. Under the Nabucco plan, it was to have its storage capacity expanded and would be fitted with pipeline links to carry Caspian gas to other European countries. Since Gazprom itself wants to supply these countries, its control of the facility would throw the plans for Nabucco into disarray. According to media reports, Gazprom has also been enticing OMV with a pledge to make it the leading distributor of natural gas in Europe. Moreover, OMV has been buying up shares in Hungary's energy major MOL in an attempt at a hostile takeover. Media reports and energy analysts say the move has Gazprom's tacit support. "Austria's gas-transit and -storage network will be more integrated with Gazprom's network," Bordonaro says. "If Austria enters Gazprom's orbit, and then if the Austrian major [OMV] takes over the Hungarian major [MOL], then it is like you scored two goals with only one strike. Then, via Austria, you also control Hungary."
European Disunion
Gazprom has very skillfully exploited divisions among EU member states by striking bilateral deals that undermine Brussels' efforts to forge a common energy policy. "Russia knows very well that Europe lacks real political unity. It is always possible to use bilateral agreements in order to advance Gazprom's interests," Bordonaro says. "The Europeans need the gas, the Russians can provide this gas, and because of the political and economic decision-making structure, Russia is much faster than the European Union in making key decisions." In an interview with RFE/RL in Brussels, EU Energy Commissioner Andris Piebalgs said legislation is in the works to prevent Gazprom from gaining control of strategic energy assets within the European Union. Most importantly, he is proposing "unbundling" -- or separating -- energy suppliers from distribution networks. "I believe strongly that network infrastructure should be separated from upstream activities [and] downstream activities. It think that is the crucial issue," Piebalgs said. "It's not only [important] from the security point of view, but also from the normal market point of view." Piebalgs said he hoped the legislation would be passed before 2009. Will that be enough to stop the Gazprom juggernaut from dominating the continent's energy market? Hestert, for one, thinks the EU needs to come up with a comprehensive strategy before it is too late. "In terms of reaching the worst-case scenario, it really depends on how the U.S., the European governments, and the EU actually react," Hestert said. "If they haven't got a strategy in place, an expectation that this is going to happen, then they really need to start thinking of one."
Nord Stream player calls on EU for help
22 January 2008 - Upstream OnLine - The Nord Stream consortium, which is planning to buils a subsea gas pipeline from Russia to Western Europe, has called on the European Union executive for help so it can meet its construction schedule. "If you think it is a done deal you are wrong," Reuters quoted Wintershall boss Reinier Zwitserloot as telling reporters in Berlin. "If we want to see gas flow through the pipeline in first half (of) 2011, all the necessary approvals must be obtained by mid-2009, but the EU Commission must help ensure that the project is not blocked by individual countries." Nord Stream is majority-owned by Russian gas export monopoly Gazprom, with Wintershall's parent BASF and fellow German player E.ON owning 20% each. The Netherlands' Gasunie has the remaining 9% stake. The operators, who aim to build the 1200 kilometre pipeline under the Baltic Sea, have recently said they will revise up the project's costs as the price of materials spirals higher. Zwitserloot said his frustration stemmed from numerous delays by individual EU countries that should not be tolerated, given a fast-rising gas shortfall in the 27-nation bloc. Among these, Estonia had blocked subsea exploration and Sweden had various departments considering approval of different aspects of the project, he said. He also said that another pipeline project, Nabucco, which is aimed at bringing Caspian area gas to central Europe, was given more prominence at EU level although it would offer less gas to help Europe overcome its supply gap. "Nord Stream can bring eventually 55 billion cubic metres of gas per year while Nabucco can only bring 8 Bcm, or 30 Bcm if Iranian gas can be sourced," he said. The EU stood to be faced with an annual supply loss of 100 Bcm by 2020 compared with today's balance, he said. Zwitserloot appealed to competition commissioner Neelie Kroes and energy commissioner Andris Piebalgs to act. Nabucco has a full time co-ordinator in Brussels, he complained.
Russia Pens $15B Pipeline Deal with Bulgaria
January 21, 2008 - Rigzone News - Russia took a major step forward in its campaign for control of Europe's natural gas supply last week when it signed a deal with Bulgaria to restart construction on a $15 billion pipeline under the Black Sea. Under the deal signed last week by Russian President Vladimir Putin and his Bulgarian counterpart Georgi Parvanov, the South Stream Pipeline will send natural gas under the Black Sea directly to Europe via Bulgaria. The route bypasses Turkey, seen as an essential transit route for Russia's natural gas exports to western Europe. Construction on the pipeline began in the 1980s but was halted in 1990. Planning for the project restarted in 2003. Russia and Bulgaria will each have a 50 percent stake in the Bulgarian portion of the pipeline.
Gazprom strikes deal on European gas hub in Austria
MOSCOW, January 25 (RIA Novosti) - Russia's state-run gas giant Gazprom and OMV, an Austrian oil and gas company, signed a cooperation agreement in Vienna to set up a gas trading platform and storage facility in Europe. The agreement signed by Alexander Medvedev, deputy chairman of the Gazprom management committee, and Wolfgang Ruttenstorfer, OMV's CEO, will give Gazprom a 50% stake in one of the largest gas hubs in Europe - the Central European Gas Hub (CEGH) in Baumgarten, Austria. "The agreement signed with OMV is a substantial contribution to securing natural gas supplies to Europe," Medvedev said. OMV Gas International deals with the group's activities in the natural gas sector and is focused on marketing, trading and logistics. The CEGH in Baumgarten was established as a logistical and commercial trading platform by OMV and has a capacity of 1.3 billion cu meters per month. The agreement is based on the Memorandum of Understanding signed in May, 2007 by Ruttenstorfer and Alexei Miller, Gazprom CEO, during a visit to Austria by Russian President Vladimir Putin.
Russia, Serbia sign agreement on South Stream section
MOSCOW, January 25 (RIA Novosti) - Russia and Serbia signed Friday an oil and natural gas cooperation agreement on the construction of the Serbian section of the South Stream gas pipeline system. South Stream is designed to supply natural gas to the Balkans and on to other European countries from Russia across the Black Sea. The South Stream agreement with Serbia envisions transportation of 10 billion cu m of Russian gas annually, Gazprom CEO Alexei Miller said. Russia's Gazprom Neft signed a deal on the purchase of a 51% stake in the Serbia state-owned oil monopoly Naftna Industrija Srbije (NIS) during talks between the two countries' leaders in Moscow. Miller said Gazprom will not require any loans to finance the 51% stake. "We have sufficient resources of our own," he said. The chief executive said regardless of political developments, Gazprom will remain Serbia's reliable partner in energy deliveries. Gazprom had reportedly offered $580 million for a 51% stake in NIS amid fears in Europe over perceived growing energy dependence on Russia. Russian First Deputy Prime Minister Dmitry Medvedev has described the newly signed Russian-Serb energy agreements as "a brilliant breakthrough." "The mutually beneficial investment that will be made as a result of these protocols ensures the interests of our countries, our peoples, and are ultimately aimed at strengthening the energy security system in Europe," he said. The joint construction of a stretch of a natural gas pipeline with Russia's Gazprom under the South Stream project will turn Serbia into a regional economic leader, Serbia's prime minister said. The South Stream pipeline proposed by Russia's Gazprom and Italy's Eni is a rival project to the Nabucco pipeline backed by the European Union and United States, which will pump Central Asian gas to Europe via Turkey bypassing Russia. The pipeline will run from Russia's Black Sea coast under the sea to Bulgaria, where it will branch off to different destinations in the European Union, supplying 30 billion cubic meters of gas annually. Serbia initially planned to sell a 25% stake in NIS for $300 million and oblige the buyer to invest another $250 million in the development of the company. The company is estimated as being worth $1.2 billion.
Friday, January 25, 2008
Iran says it could provide gas for Caspian Nabucco pipeline
TEHRAN, January 22 (RIA Novosti) - Iran could contribute natural gas to the planned Nabucco pipeline to pump Caspian gas to Europe via Turkey, bypassing Russia, the Islamic Republic's foreign minister said on Tuesday. Speaking in Bulgaria, Manouchehr Mottaki said, as quoted by Iranian media: "The European Union has stated a need to diversify sources and routes of natural gas supplies. Nabucco is one of the possible projects of cooperation between Iran and the EU in the energy sphere." The $6 billion pipeline, backed by the EU and the U.S. and designed to be laid down via Turkey, Bulgaria, Romania, Hungary and Austria, is a rival project to the South Stream gas pipeline to run from Russia's Black Sea to Bulgaria and further branch off to different destinations in Europe, supplying it with 30 billion cu m of gas annually. Construction on the Nabucco pipeline is scheduled to begin in 2009, enabling the pipeline to go on stream in 2012. Russia and Bulgaria signed a $15 billion deal on Friday under which they will hold a 50% stake each in a joint venture to operate the South Stream pipeline across the Balkan state. Iran's ex-president Ali Akbar Hashemi-Rafsanjani, who is part of the delegation led by Mottaki on the visit to Bulgaria, singled out earlier on Tuesday Bulgaria as a potential energy partner for Tehran. "Bulgaria is a gateway to Europe, and it could have an important role in economic cooperation with Iran, especially in the oil and gas sector," he said. Mottaki and his delegation are also expected to visit Portugal and attend the World Economic Forum in Switzerland's Davos on January 23-27.
Russia, Bulgaria sign South Stream gas pipeline deal
SOFIA, January 18 (RIA Novosti) - Russia and Bulgaria signed a $15 billion deal on Friday to build the South Stream natural gas pipeline, which is set to give Russia greater control over supplies to southern Europe. The pipeline proposed by Russia's Gazprom and Italy's Eni is a rival project to the Nabucco pipeline backed by the European Union and United States, which will pump Central Asian gas to Europe via Turkey bypassing Russia. Gazprom CEO Alexei Miller confirmed on Friday that Bulgaria would hold a 50% stake in a joint venture that will operate the South Stream pipeline across the Balkan state's territory. Earlier reports said Bulgaria was seeking a majority stake in the pipeline. "The ownership structure problem has been solved. It will be 50-50," Miller told reporters, adding that the pipeline will come on stream in 2013. The contract was signed as part of Russian President Vladimir Putin's official visit to Sofia. Bulgarian Prime Minister Sergei Stanishev said earlier on Friday the two countries had managed to settle differences over the project at talks late on Thursday, when Putin arrived in the country. Putin was accompanied to Bulgaria by a host of government officials including First Deputy Prime Minister and Gazprom board chairman Dmitry Medvedev, who is widely expected to assume the presidency in spring. The South Stream pipeline will run from Russia's Black Sea coast under the sea to Bulgaria, where it will branch off to different destinations in the European Union, supplying 30 billion cu m of gas annually. Possible routes for the land section are still under discussion. Putin told a news conference in Sofia that Gazprom and Eni had registered a joint venture to build South Stream's underwater section. "A new company was registered today by Gazprom and Eni, which will carry out design work and build the underwater section of the South Stream gas pipeline," he said. Other energy deals signed during Putin's visit to Russia's former Communist ally and now EU member include an agreement to set up a company to oversee the construction of the Burgas-Alexandroupolis oil pipeline, which would involve the two countries and Greece. The three nations signed a deal in March 2007 to lay down a pipeline to carry 35-50 million metric tons of Russian crude annually (257-367 million bbl), via the Bulgarian Black Sea port of Burgas and Greece's Alexandroupolis on the Aegean, as an alternative route to bypass the congested Bosporus. Under the deal, Russia will have a 51% stake in the pipeline project and Greece and Bulgaria will hold 24.5% each. The countries also signed on Friday a $6 billion contract on the Belene nuclear power plant in Bulgaria to be built by Russian contractor Atomstroyexport. Russia's new oil and gas pipeline projects have triggered concerns in Europe over its growing dependence on Moscow. However, Putin highlighted the projects' international importance. "We are positive that their successful implementation will bring tangible economic dividends [to the countries involved], as well as raise energy security of the Balkans and Europe as a whole." Russia's other agreements with Bulgaria signed on the sidelines of Putin's visit were an understanding on cooperation in tourism, a deal to build a train ferry system linking Russia's Kavkaz port in the Kerch Strait to Bulgaria's Varna port to facilitate cargo movement, and a series of cultural agreements.
Thursday, January 17, 2008
Putin trip is next step in Gazprom's march west
January 14, 2008 - International Herald Tribune
by Judy Dempsey
- Berlin: Gazprom, the Russian state-owned energy company, is making a big bid to build and control natural gas routes in southeastern Europe in a move that could leave the European Union's energy policy in the region in disarray, according to Balkan analysts. The move by Gazprom could be sealed this week when President Vladimir Putin of Russia begins on Thursday a two-day visit to Bulgaria, a country that depends almost entirely on Russia for its energy but that has been seeking ways to diversify its natural gas sources. At the same time, Gazprom is poised to take control of the state-owned Petroleum Industry of Serbia, known as NIS, despite divisions within the Serbian government over the price and terms of the takeover. NIS consists of two oil refineries, a crude-oil supply pipeline and the bulk of Serbia's distribution networks for oil products and fuels. The $400 million contract - which other energy companies, including OMV of Austria and MOL of Hungary have said is underpriced - would give Russia a big advantage over the EU in the region. Analysts said the deal would allow Gazprom to build a pipeline across Serbia, construct a large storage facility for its natural gas and turn that part of the western Balkans into a hub for Russian energy. By establishing a foothold there and signing long-term supply contracts with countries in the region, Gazprom could further weaken the EU's goal of building the Nabucco natural gas pipeline. The Nabucco pipeline, still awaiting financing and construction permits, is intended to provide Europe with alternative sources of natural gas instead of increasing the bloc's dependence on Russia. "There is a clear connection between Putin's visit to Bulgaria and Gazprom's recent offer to take over 51 percent of NIS," said Dick de Jong, an energy specialist at Clingendael, the Netherlands Institute of International Relations. "Both deals are important for Russia's plans to build the South Stream pipeline, which when completed would strengthen Russia's influence in the region." Putin was to arrive in Sofia, the Bulgarian capital, to start the "Year of Russia" celebration and observe the 130th anniversary of Bulgaria's liberation from the Ottoman Empire. He wants to use the visit to confirm the participation of Sofia in the South Stream pipeline. This ambitious but costly project, estimated to cost as much as $10 billion, is being built by Gazprom and Eni of Italy but requires the participation of Bulgaria and Greece. Gazprom and Eni signed a memorandum of understanding in June to build the 900-kilometer, or 550-mile, pipeline from Russia to Bulgaria via the Black Sea. Such a project would weaken Gazprom's dependence on Turkey, which is a major transit country for Russian natural gas. It could also hinder Turkey's own ambitions to become a hub for energy from Russian and the Caspian region. In Bulgaria, the pipeline would have two spurs, one going westward to Greece and Italy, the other traveling north to Serbia and possibly into Austria or Hungary. So far, Russian negotiations have proved difficult for Bulgaria. The country joined the EU a year ago and is still eager to prove its European credentials, despite its dependence on Russia for energy. "Bulgaria is in a very tricky situation," said Plamen Pantev, director of the Institute for Security and International Studies in Sofia. "On the one hand, if the government agrees to the deal with Gazprom, it would mean we would become an important transit country. And that would be lucrative. On the other hand, we would become even more dependent on Russia for our energy. It will be very difficult to get the balance right." Since the end of the Cold War in 1991, successive Bulgarian governments have sought, but failed, to diversify their energy imports. Bulgaria is already a member of the Nabucco consortium. The other countries in the consortium are Romania, Hungary, Turkey and Austria. The idea behind Nabucco is that Europe would reduce its own dependence on Russian natural gas by building a 3,300-kilometer pipeline that would carry natural gas from Iran and Azerbaijan via Turkey, up through Bulgaria to southern and western Europe. The €5 billion, or 7.4$ billion, project, however, has faced several delays, with disagreements over the route and the costs. Above all, there is the political aspect. Iran is supposed to supply natural gas to Nabucco, something the United States opposes. Analysts say that the EU delays in forging contracts with the countries around the Caspian Sea has proved to be a bonus to Gazprom. "The longer the delay in getting Nabucco off the ground, the greater the chance that Gazprom will consolidate its grip over southeastern Europe and the rest of the Balkans," said Borut Grgic, director and founder of the Institute for Strategic Studies in Ljubljana, Slovenia. "That is why Putin's visit to Bulgaria is so important." Last month, Russia signed a major deal with the Central Asian republics of Kazakhstan and Turkmenistan to build a natural gas pipeline along the Caspian Sea, a move that could strengthen Russia's monopoly on energy exports from this region and, at the same time, undermine Nabucco.
Wednesday, January 16, 2008
Transneft completes flotation
BRIEFLY
RBC, 16.01.2008, Moscow 10:57:16. – Transneft completed an additional share issue on Tuesday to ensure a merger with Transnefteproduct, the Russian pipeline producer announced in a statement today. The company placed 882,220 common shares worth a total of nearly RUB 52.554bn (approx. USD 2.164bn). As reported earlier, the issue will be fully paid for by Transnefteproduct's government-owned shares.
Thursday, January 10, 2008
Nord Stream does its sums
07 January 2008 - Upstream staff The Nord Stream consortium, which is building a subsea gas pipeline from Russia to Western Europe, said today that project costs look likely to exceed €5 billion ($7.35 billion), adding that it will release new cost figures in the coming months. Nord Stream director Dirk von Ameln repeated that plans still call for gas shipments to start at the beginning of 2011. "It is quite clear that the cost will be higher than earlier calculated," he told Reuters. "We will come up with new figures in, let's say, March." Switzerland-based Nord Stream, majority owned by Russian gas export monopoly Gazprom , plans to build a 1200 kilometre pipeline under the Baltic Sea from Russia to Germany. Work is due to begin in 2009 and be completed in 2010. The Nord Stream consortium, apart form Gazprom, which owns 51%, involves German players BASF and E.ON, with 20% each, and Dutch outfit Gasunie with 9%.
Nord Stream Costs to Exceed 5 Billion Euro
January 02, 2008 - AFX News Limited - Nord Stream AG, a consortium that plans to build a natural gas pipeline below the Baltic Sea, expects construction costs to amount to "significantly" more than 5 billion eur, managing director Mattias Warnig told Die Zeit. The consortium, in which Russia's OAO Gazprom owns a 51-percent stake and Germany's BASF AG and E.ON AG each own 24.5 percent, previously said construction costs will rise above the initially estimated 5 billion eur, and also said it expects gas shipments to start in spring 2011, pushing back its original 2010 start date. Warnig said in an interview with Die Zeit to be published tomorrow the consortium will during the coming months disclose a more precise estimate of construction costs, after purchase contracts are signed. Warnig defended the consortium's decision to build a submarine pipeline instead of choosing an overland route and said the profitability of a submarine pipeline during the first 25 years of operations is 15 percent higher. The pipeline will connect Russia's Vyborg and the German city of Greifswald.
Wednesday, January 09, 2008
Gazprom Neft, LUKoil form joint venture
MOSCOW, December 28 (RIA Novosti) - Gazprom Neft [RTS: SIBN] and LUKoil [RTS: LKOH] have formed a joint oil and gas venture to implement projects in hydrocarbon production, the two leading Russian energy companies said on Friday. Gazprom Neft, energy giant Gazprom's oil division, will hold 51% and LUKoil 49% in the new Development of the Regions company and will run the joint venture on a parity basis. The company will develop fields in East Siberia and in the Komi Territory in northwest Russia. The charter capital will be formed from monetary funds, although originally the two companies were expected to use their assets. Alexander Dyukov, Gazprom Neft president, said the joint project would help expand the companies' presence and improve efficiency in developing new deposits. "The joint venture ... is an effective instrument for cooperation between the large Russian oil companies that boast impressive production and financial potential for major projects," Vagit Alekperov, LUKoil chief, said as quoted by the joint news release. In May, Gazprom Neft and LUKoil, Russia's largest independent crude producer, signed an agreement to set up the joint venture, which will be run by a LUKoil manager in the first stage. Cooperation between LUKoil and Gazprom Neft is based on a strategic partnership agreement for 2005-14, which was signed in March 2005.
Contact me: